Eugene, Oregon. This place is nuts when they get snow. No one knew what the hell was going on. Max speed reached by the average car in Eugene was 15mph. Figure living in Florida and then getting 4 inches of snow. Anyways, we spent 2 whole days driving around next to these space cadets. Good to be home.
First up was a quad kink that soon enough got turned into a triple because of drop-in/speed issues. Let's face it, that drop in was a piece...
Here's jNorm almost getting some.
Here he's got it. 50-50 to fakie.
jNorm reppin' the Amplid.
Jon boy got the front board he was looking for. First shot of the season son.
I have nothing clever to say a bout Jonny this time.
Sooooo f'ing sketchy. 41-stairs of heavy shit man.
Jon got the shot for sure, maybe came off a little early for the film but I got a shot that made my trip. Such an intense impact coming off this thing. Props to Jon boy for working at it so hard.
Gotta get a little artsy. Just sent in some medium format shots from this trip, I'll get those back and posted next week.
On a lighter note, here's Sam eating a monster Ray's bagel sandwich. Peace!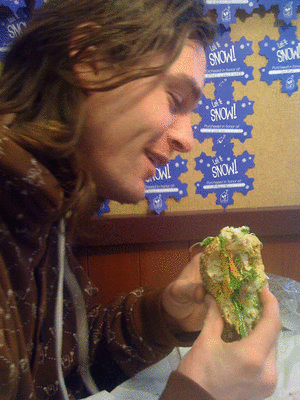 myspace image at Gickr